Recently, I've been getting really annoyed and tired of waiting for some mangas to update.
This isn't the first time this has happened, but this time I decided that I would find some newer or more recently updated mangas to read.
So, I'm going to make a list of mangas I've been waiting for an update on, and mangas that I recently started to read. I'm also going to link the titles to websites they can be read on.
1) Skip Beat – I know this manga already updated this month, but I love Skip Beat's mix of drama and comedy. I need more. ()´д`()
2) Taiyou no Ie – Um…yeah. I cannot believe how the latest chapter ended. It left me going "are you serious???!" I'm a bit upset, but that's mostly because I need to know what's going to happen next.
3) Bokutachi wa Shitte Shimatta– This manga doesn't update too often. I haven't been reading it for too long, but I feel like the gaps between updates makes me less interested in the story. The thing that's keeping my interest is to see how the story plays out, since it reminds me of Kare Fist Love (yeah…by the same mangaka).
4) Romantica Clock – I just started this manga today and so far I really like it. It's about middle school twins named Akane and Aoi. Sound familiar (maybe more specifically to Love So Life)? Yup, middle schoolers Akane and Aoi have the same names and similar personalities to kid Akane and Aoi. The authors and stories are completely different, but I was really surprised by the twins similarities to each other.  I know there is an anime too, but I haven't watched it.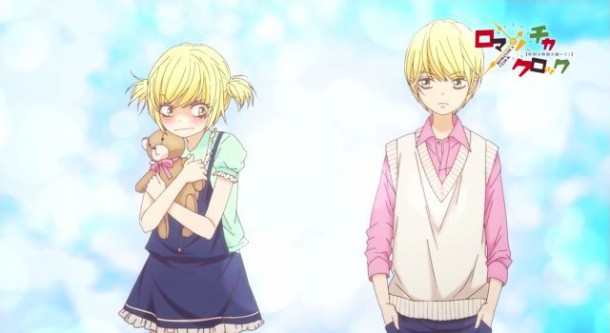 5) Kimi ga Inakya Damette Itte– I also recently started this manga. I'll admit that I'm not exactly loving the manga. It's not very unique and where the last chapter left readers… lets say everyone just feels like punching the slow and stupid hero in the face. In a way it reminds me of Heroine Shikkaku, but it feels a bit flimsy or off-ish (referring to the plot).
6) Cubism Love – This manga is definitely the weirdest manga I've ever read, but I enjoy reading it. The protagonist is a middle school girl who got into an accident and could only have her brain saved. Since the setting is in the future, there is a black box that her brain is kept in, and it keeps her "alive." So…like the title says, this black box falls in love. It's strange, but the plot is extremely unique. Makes me want to know what will happen :)
7) Honey Buddy – This manga doesn't have many chapters out (only 2), but it looks like it could have a lot in the future. Personally, from what I've seen from the mangaka, I think this manga will be short or even a one shot. Either way, the love triangle of a normal girl, a yankee, and a player is something I want to see. Although readers can mostly tell who the protagonist will end up with, there are obstacles that she'll have to go through.
So these are some of the mangas I've been reading and really want to update x)
I have more mangas/manhwas/manhuas that I want to update, but I felt like doing these few.
Happy Thanksgiving everyone! And if you don't celebrate (I don't), then I hope you have a fantastic day!
I was planning on doing a review today, but I think I'll spend the rest of my day(s) watching anime and reading manga.