My first impression of Shigatsu wa Kimi no Uso (SWKNU or Uso) was that it had beautiful scenery. My second thought was that something was off and that something shocking or terrible was going to happen.
SWKNU started off a bit cliché. Arima Kousei- the protagonist- was in a 'slump.' He couldn't hear the notes he was playing on the piano, and his childhood friend Tsubaki was worried about him. Maybe it was by chance or 'fate,' but thanks to Tsubaki, Arima was able to meet Kaori Miyazono. And yes…Kaori thought Arima was being a pervert at first…
After the encounter in the first episode, Arima gets himself together and performs a couple of times. Kaori, who plays the violin, also performs a couple of times and with Arima too. The two characters are obsessed and in love with music.
Listening to their performances is relaxing, nerve-racking, and just amazing. Even though I'm not an expert with classical music, the timings of the pieces in the show's plot mixes well, and it makes it hard not to pay attention and appreciate the music. (Although the pieces can be lengthy at times)
[slight spoiler] As it is obvious, Arima falls for Kaori. I mean, they're total opposites, and they are the main characters of SWKNU, after all. The question is, does Kaori have feelings for Arima? The answer at this point in the show is debatable. Especially since Arima was 'Friend A' of Watari- the guy Kaori apparently likes, and the guy Tsubaki and Arima are friends with.
What surprised me the most about Uso, was that it jumped right into the problems. I figured the show was going to take it a bit slow plot-wise, but I couldn't have been more wrong. When Kaori starts having 'problems*,' things take a sudden twist. What happened to the light and carefree laughter?
Then again, with Arima's past issues of his mother, Kaori's problems could have been predicted…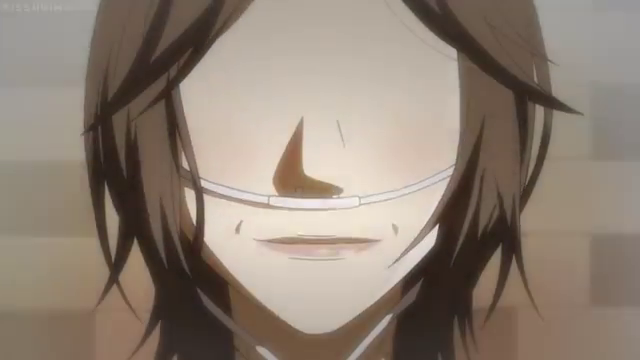 With the Kaori's tragedy, the show becomes emotional.
Personally, I wasn't mentally prepared. I wasn't prepared for the sudden jump in the story, or the problems that were occurring. It took me about ten episodes to have my feelings caught up, and for me to finally sympathize with the characters. Maybe I'm just not that sentimental, but I barely knew the characters and their norms. Until I could understand them, I had to stick with speculating the show. Which, I surprisingly liked for the most part.
The show introduces a 'few' rivals for Arima. The first rival is Takeshi Aiza. He is the same age as Arima (and others), and he is also the top pianist of his age. It is known that Aiza was offered abroad opportunities, but turned them down because of Arima. Aiza always waited and wanted to win in a competition against Arima; even when Arima was in a slump and had stopped playing the piano. His hair sticks up weird, and he has a lot of determination. Aiza, is probably one of my favorite characters after Kaori and Hiroko (especially after episode 18 :)
The second rival is a girl named Emi Igawa. Unlike Aiza, Emi's emotions greatly affects her playing. Although this can help Emi, when she in introduced in SWKNU, viewers hear that she has not been playing well recently due to her sensitive emotions. Emi seemed like one of those 'pretty-and-cold-girls' when introduced, but after seeing her performance in the show, it is clear that she is much more emotional and kind. Emi, like Aiza, has always wanted to defeat and show off to Arima in a competition.
Knowing Uso, there are many more side characters. Like Arima's teacher Hiroko Seto (who was also his mother's friend), Takeshi's younger sister, the boy who plays the violin, Tsubaki's friend, and so on…
But, my advice is not to take all the characters lightly. Specifically, do not take Tsubaki lightly.
Now with Tsubaki… she can pitied, liked, or disliked. She worries for Arima and pushes him back into the music world. She also introduces him to Kaori, and she has been with Arima since childhood. However, she easily gets jealous and hates music because Arima is so occupied by it. Even when she pushed him back to music, she often says she wants him to stay with her.
Tsubaki quickly goes from a sister-like character to a selfish-crybaby. It can be hated or loved. Maybe both, but I haven't found the perfect mix of the two yet…or at all…
Each and every character in Uso has a past, a story, and some type of importance. Every Thursday, viewers either learn more about the characters, get depressed and cry, or both. Uso has beautiful in scenery and music. I'm not sure how I feel about the story or characters quite yet…but as things are slowly changing and unraveling, everything becomes more and more clear.
The manga ended this year, and the show is supposed to end sometime in spring. Your Lie in April is a show that makes you want to cry and smile at the same time. It's pretty, emotional and beautiful and relaxing and nerve-racking. The show has you worried about characters, yet it doesn't make you edgy for finding out what will happen next (at least when you finish the current episode). Your Lie In April is a show that needs time to sync. It is beautifully painful.
Genres: Drama, Shoujo, Tragedy, Music, School Life, Slice-of-Life, Romance.
What I rate it so far: 8
Notes:
– Kaori has a tendency of quoting things. Maybe I'm just weird, but that is probably one of my favorite things about her character. :)
– Uso becomes strays away from its chlicé-ness and becomes refreshing. I almost forgot to add that (>__<')
– [SPOILER] * Kaori's problem is that she is seriously ill. Viewers (who don't read the manga) still do not know what her illness is.
– Sources for the pics: Pic 1, Pic 2, Pic 3, Pic 4, Pic 5, Pic 6, Pic 7, Pic 8, Pic 9, Pic 10, Pic 11, Pic 12, Pic 13, Pic 14, Pic 15, Pic 16.
– Some Uso backgrounds: 1, 2, 3, 4, 5, 6, 7, 8, 9, 10, 11.